Medicare Advantage/Medicare Supplements
What is Medicare?
Medicare offers health insurance to people who are 65 and older, certain younger people with disabilities, people with end-stage renal disease (permanent kidney failure requiring dialysis or a transplant, sometimes called ESRD) and ALS. There are different parts to Medicare to help cover certain services.
MEDICARE PARTS EXPLAINED
Part A – Hospital Insurance. Covers inpatient hospital stays, care in a skilled nursing facility, hospice care, and some home health care.
Part B – Medical Insurance. Covers certain doctors' services, outpatient care, medical supplies, and preventative services.
Part C – Medicare Advantage Plans Offered by private insurance companies that contract with Medicare. These plans provide all of Part A and B benefits plus additional benefits. Most Medicare Advantage plans include prescription drug coverage.
Part D – Prescription Drug Coverage. Often included in Part C Medicare Advantage plans, this coverage is also available as stand-alone plans for people in original Medicare and/or on Medicare Supplement (Medigap) plans. These plans are offered by compa-nies that are approved by Medicare.
What are my options?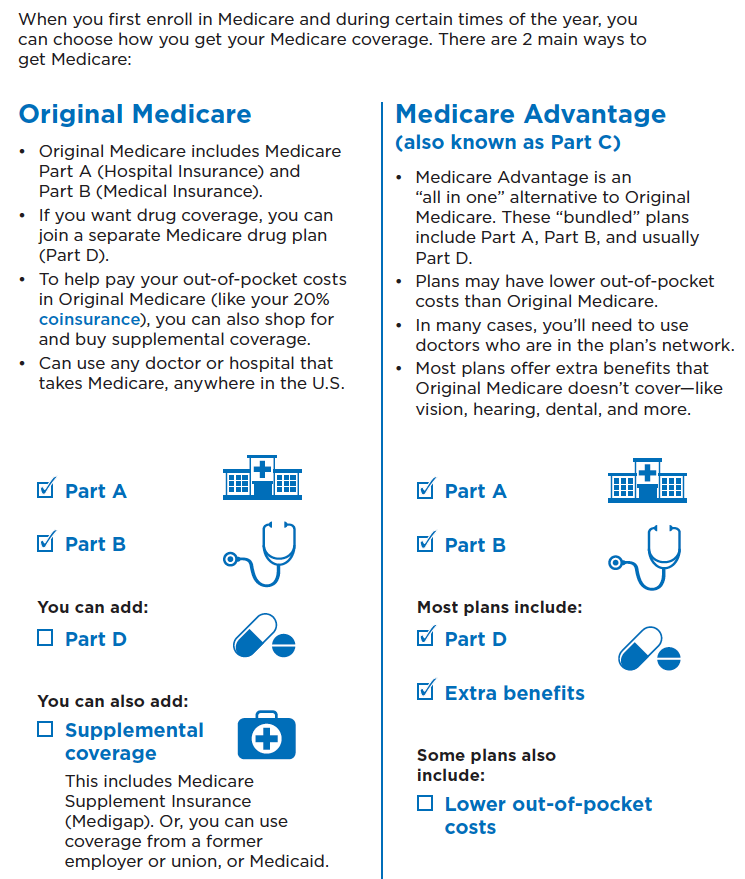 What Do You need to Consider when Picking a Plan?
Look at more than just premiums.
- Consider co-pays, deductibles, coverage, ease of use, and the network of providers.
- The cheapest premium doesn't always mean it's the best plan for you.
- Seek the advice of a local, licensed, experienced insurance agent.
- Insurance does not have to be a do-it-yourself project!
Keep in mind there is a Part B late enrollment penalty. If you don't sign up for Part B when you're first eligible, you may have to pay a late enrollment penalty for as long as you have Part B. Your monthly Part B premium may go up 10% for each 12 month-period that you could've had Part B, but didn't sign up. If you're allowed to sign up for Part B during a Special Enrollment Period, you usually don't pay a late enrollment penalty (see page 17). Example: Mr. Smith's Initial Enrollment Period ended December 2017. He waited to sign up for Part B until March 2020 during the General Enrollment Period. His coverage begins July 1, 2020. His Part B premium penalty is 20%, and he'll have to pay this penalty for as long as he has Part B. (Even though Mr. Smith wasn't cov-ered a total of 27 months, this included only 2 full 12-month periods.)
When Can I get Medicare?
You can first sign up for Part A and/or Part B during the 7-month period that begins 3 months before the month you turn 65, in-cludes the month you turn 65, and ends 3 months after the month you turn 65.

If you sign up for Part A and/or Part B during the first 3 months of your Initial Enrollment Period, in most cases, your coverage be-gins the first day of your birthday month. However, if your birthday is on the first day of the month, your coverage will start the first day of the prior month. If you enroll in and are paying for Part A and/or Part B the month you turn 65 or during the last 3 months of your Initial Enrollment Period, the start date for your Part B coverage will be delayed.
How Can I Apply?
Michelle (Shelly) Gams, CFP is a an agent offering Medicare plans and is committed to her clients. For nearly two decades, Shelly Gams has been working in the service of others. You can apply in the comfort of your own home by clicking here.
Are you ready to apply? Make an appointment by calling Shelly's office at 406-294-7527.
Additional helpful tips :
www.medicare.gov/
www.socialsecurity.gov
PDF—Medicare & You 2021
Medicare Supplement Plans are offered by one or more carriers unaffiliated with New York Life Insurance Company